Lollapalooza is back for 2023, as we start to anticipate the summer festival season! The iconic music festival attracts thousands of fans from around the world annually. The lineup is always diverse, featuring genres such as rock, pop, hip-hop, and electronic. And, fans are already buzzing about the 2023 headliners, which include Billie Eilish, Kendrick Lamar, and Red Hot Chili Peppers, among others.
But it's not just about the music – Lolla also offers a wide variety of food and drink options, as well as art installations and other activities. Get ready for an unforgettable experience at Lollapalooza 2023!
Dates and Location
Lollapalooza 2023: August 3-6, 2023, at Grant Park in Chicago, IL
Grant Park is a beautiful 319-acre park located in downtown Chicago. The park features several iconic landmarks, including Buckingham Fountain, the Art Institute of Chicago, and Millennium Park. Lollapalooza has been held at Grant Park since 2005 and has become an important part in the city's cultural scene.
Lolla 2023 Lineup
Lollapalooza 2023 has announced its jam-packed lineup for the four-day event in Chicago's Grant Park. The festival will feature over 170 artists on 9 stages, including some of the biggest names in music.
Main Stage Headliners
Lollapalooza 2023 is going to be absolutely epic! From Kendrick Lamar's incredible flow to Billie Eilish's haunting vocals, there's something for everyone at this year's festival.
The headliners are: Kendrick Lamar, Billie Eilish, Lana Del Rey, Red Hot Chili Peppers, Odesza, Karol G, Tomorrow X Together, and The 1975.
Get ready to dance, sing, and party all weekend long with the hottest acts in music. Lollapalooza 2023 is going to be the event of the year!
Full Lineup
In addition to the headliners, Lollapalooza 2023 will feature a diverse lineup of artists from various genres, including performances by Lil Yachty, Yung Gravy, Carly Rae Jepsen, Noah Kahan, Maggie Rogers, Sofi Tukker, and more. Check out the official poster below or visit the Lollapalooza website to see the full lineup.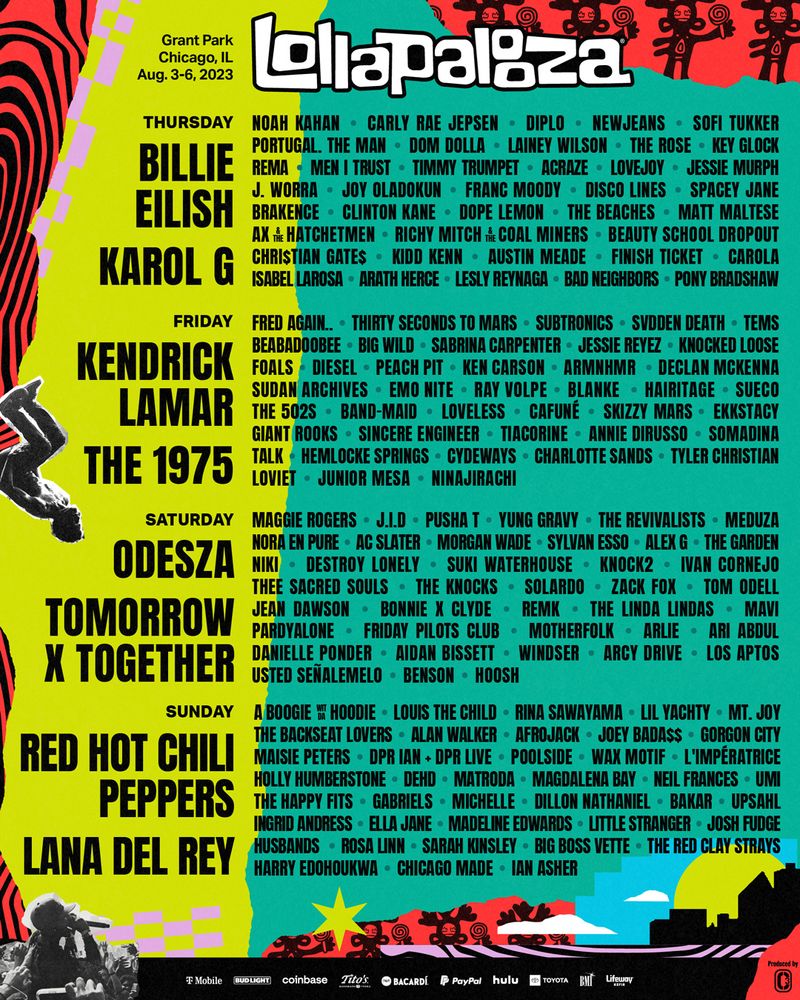 Tickets and Accommodations
Tickets are now available for purchase with multiple options to pick from, that includes 4-day and 1-day tickets, as well as VIP and Platinum options.
Four-Day Passes: The 4-Day General Admission Ticket allows access to the festival for all four days and starts at $375.
Single Day Tickets: For those who can't make it to all four days, single day tickets are available. The price for a single day general admission pass is $125.
The prices typical increase as the fest approaches, or can sell out, so it's best to buy tickets early. Layaway plans are available starting at $20 down. For VIP and Platinum ticketing, and premium packages, visit the Lolla site for complete ticket info.
Accommodations
Chicago has a wide range of accommodations available for Lollapalooza attendees. From budget-friendly hostels to luxury hotels, there's something for everyone.
For those who want to stay close to the festival, there are several hotels within walking distance of Grant Park. Some popular options include the Hilton Chicago, the Palmer House Hilton, and the Blackstone Hotel. For those on a budget, there are several hostels in the area. The Chicago Getaway Hostel and the HI Chicago Hostel are both affordable options within a short distance of the festival.
Overall, there are plenty of options for both tickets and accommodations for Lollapalooza 2023. It's important to buy tickets early to get the best price and to book accommodations in advance to ensure availability.
Related: Chicago Beer Festivals 2023: Dates, Locations, and Tips
Featured Photo via Lollapalooza Facebook